About the artist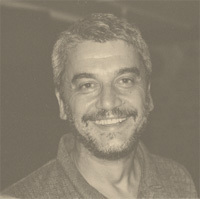 Alexi Natchev was born and educated in Sofia, Bulgaria. He graduated from the National Academy of Fine Arts in Sofia, where he was later a professor in the Drawing Department. He works in the field of Childrens' Book Illustration, Printmaking, and Drawing. His work has been shown in many international exhibits and biennials and he has received a number of national and international awards.
Since moving to the US in 1990, he published more than fifteen children.s books with major American publishers, including Doubleday, Penguin Putnam, Random House, and Simon and Schuster. In 2001 he was awarded the prestigious Artist Fellowship from the State of Delaware for the body of his work as children's book illustrator. His work is in possession of the National Art Gallery in Sofia and Rare Book Collection at Princeton Library. The Tale of Urso Brunov, published by Philomel Books, is his latest book, where he collaborated with the acclaimed writer Brian Jacques, world renown for The Red Wall series.
The artist has been also teaching in various colleges and art schools such as Savannah College of Art and Design, University of the Arts in Philadelphia, and Maryland Institute College of Art in Baltimore. Currently he is the Illustration Area Coordinator at Delaware College of Art and Design in Wilmington, Delaware.
Alexi Natchev lives in Newark, Delaware.